COVID-19 Update - Chez Wallington Postponed
Published: March 15, 2020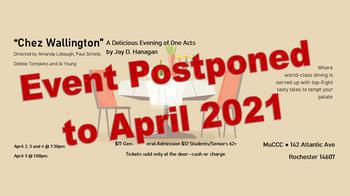 Dear friends of ETC,
In response to the continually evolving COVID-19 situation in Monroe County, the Board of Directors has made the difficult decision to cancel this April's production of Chez Wallington at MuCCC. Our greatest concern is for the well being of our cast, directors and audience, and the most important thing during this uncertain time is to keep everyone safe and healthy.
Rather than cancel this collection of one-act plays altogether, Everyone's Theatre Company, Inc. has arranged with the playwright to produce Chez Wallington in Spring 2021, currently scheduled for April 22-25 at MuCCC. We are also looking forward to our planned full-length play in October 2020; please watch for fall audition and show announcements.
We'd like to thank everyone for your continued support of Everyone's Theatre Company, Inc. We wish you all good health.
Sincerely, ETC Board of Directors
https://www2.monroecounty.gov/health-coronavirus
« View All News